Ubisoft's Assassin's Creed Pirates is now available for iOS devices. The new Assasin's Creed mobile title allows users to play as the upstart pirate Alonzo Batilla as he tries to build his own pirate empire. The game features real-time naval battles, changing weather conditions, a vast array of islands to explore, and over 50 story and side missions.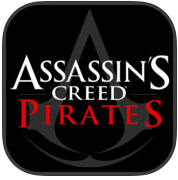 Players are tasked with building and upgrading their pirate ship, hiring and managing their ship's crew while trying to uncover truth about La Buse's mysterious lost treasure. The game also includes the most legendary pirates of the era, including Sam Bellamy, Ben Hornigold and Blackbeard.
Assassin's Creed Pirates is not a companion app to the console game Assassin's Creed IV: Black Flag. It's a standalone game with its own unique story with no link to the console version. The game is available for $4.99 from the App Store. It supports the iPhone 4s and later, the iPad and iPad mini.
Here's the official description from the ubilog:
"You play as Alonzo Batilla and explore the Caribbean, upgrading your ship and engaging in real-time naval battles on your path to claiming a legendary treasure and becoming the most feared pirate of your time.

Upgrade your ship with better sails and weapons and recruit new crewmembers to acquire perks that will make you a better captain. Use cannons, mortar and swivel guns in battle to tear your enemies apart up close or from a distance, and rise through the ranks of the pirates of the era."
You can download to official Assassin's Creed IV: Black Flag companion app for iOS devices for free here.