After many early iPad pre-orders were updated several days ago to indicate that they were prepared for shipment, Apple has actually begun shipping those orders. Many eager iPad owners-to-be were happily greeted by an Apple shipping notification, such as the one shown in the image below, sitting in their inbox.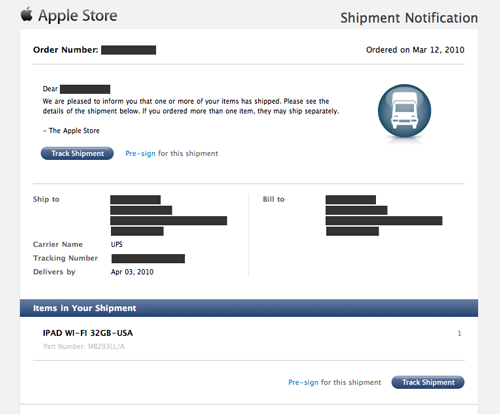 Somewhat interestingly, despite most outlets previously assuming it would be FedEx handling the Saturday deliveries of Apple's long awaited tablet, early reports from consumers indicate that UPS is handling the initial shipment of iPads. Despite some customer concerns that UPS does not deliver on Saturday, the UPS website clearly states "For time-critical shipments, UPS offers the convenience of Saturday Delivery."
The shipment of the iPad, a full five business days before the expected arrival date of April 3rd, has already fueled speculation that the iPad might arrive early for some customers. UPS tracking information for iPad orders has not yet been updated to show an estimated delivery date, with orders simply displaying a status of "in-transit".
Speculation of an early arrival for the iPad may be primarily wishful, as shipments of the iPad are originating from China, and will need time to arrive in the US, be sorted and distributed through the UPS domestic transporation network.
All early reports from customers show the iPad shipments originating from Shenzhen, China.
Customers that are still hoping to grab an iPad on release day should be advised that they now need to head to their local Apple store or a Best Buy location, as Apple has delayed shipments of new pre-orders, with an estimated shipping date of April 12th.