The latest Smart Cover changes from Apple may pale in comparison to news on the iPad 3, however those looking to buy the accessory might be interested. When it comes to the iPad 2 Smart Cover, Apple just introduced the first design revisions since its launch earlier in the year. The exterior of the polyurethane models feature a new dark gray offering.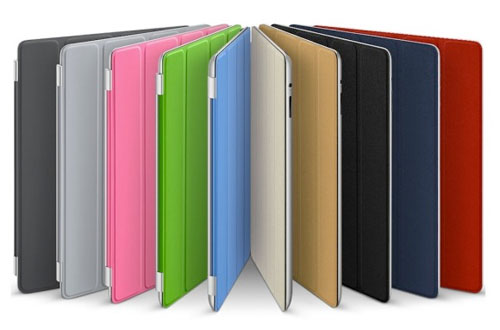 Apple has also taken the bright orange Smart Cover off the market. In addition to these exterior changes, the microfiber interior of the Smart Cover has been made to match the color of the outside. On all previous versions the interior was gray. Apple also explains that polyurethane colors have all been improved so they look more vibrant.
Leather fans aren't entirely missing out when it comes to the exterior colors. According to AppleInsider the navy blue leather Smart Cover has been improved to make it appear "more navy" whatever that means. Pricing remains at $39 for the polyurethane models and $69 for leather.
Each Smart Cover contains magnets affix themselves to the front screen of the iPad 2. Not only does this protect and clean the screen, but the magnets trigger a switch that can wake and sleep the iPad automatically. The Smart Cover can be used as a stand while watching video or to prop up the iPad 2 for typing.
The Smart Cover recently made news thanks to a security flaw that makes it possible to access the last used app without unlocking the iPad 2 with a passcode. The process involves the power button and manipulation of the Smart Cover in a bug that Apple is sure to fix in the next iOS update. Many third party cases also contain magnets that operate in the same manner as the Apple Smart Cover.