With its annual Worldwide Developers Conference (WWDC) just a week and a half away, Apple has released a schedule for the event and launched an updated WWDC app for the iPad and iPhone.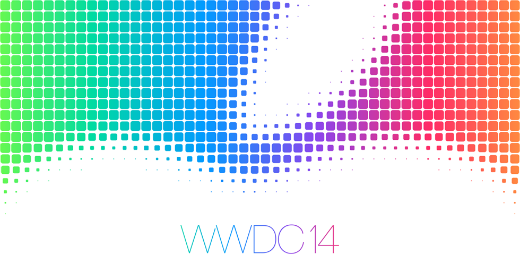 Apple today announced that WWDC 2014 will kick off at San Francisco's Moscone Center West with a keynote presentation at 10:00 AM Monday, June 2. After lunch there will be a "Platforms State of the Union" followed by Apple design awards. The technical sessions and labs begin on Tuesday and, as you can see on the schedule on the WWDC site, much of it remains under wraps. Many of the time slots are labeled "This one is sealed," "No comment," "We're not telling" and so on. To give you an idea of what to expect, some of the sessions that aren't classified include titles such as:
Affiliate Tools for App Developers
Core Animation and Quartz 2D Lab
Building Apps for Enterprise and Education
Writing Energy Efficient Code, Part 1
AV Foundation and Camera Capture Lab
User Interface Design Lab
Safari and WebKit Lab
All the sessions and labs fall into one of six categories including Media, Frameworks, Core OS, Tools, Services and Graphics and Games. The conference wraps up on Friday afternoon.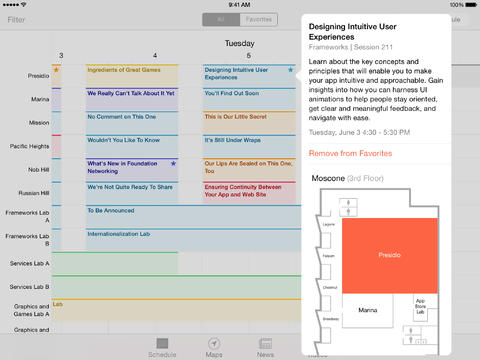 If you can't make it to the conference, Apple released an updated version of its WWDC app that will keep you abreast of the action. With the app you will be able to:
Stream videos from current and previous WWDC sessions.
Start watching on one iOS device, and pick up where you left off on another.
Browse times, locations, and descriptions for sessions, labs, and special events.
Mark schedule items as favorites.

Keep up with the latest news, get important notifications, and see daily photos.

View maps to find your way around Moscone West.

Provide feedback on content and speakers for each session.

Add your pass to Passbook for faster check-in at WWDC.
The app is a free download. It requires iOS 7.1 or later and is compatible with the iPad, iPhone and iPod Touch.