A new patent application filed by Apple today describes an "Integrated Visual Notification System for an Accessory Device." In other words, an iPad case that will transmit visual notifications might be in the works.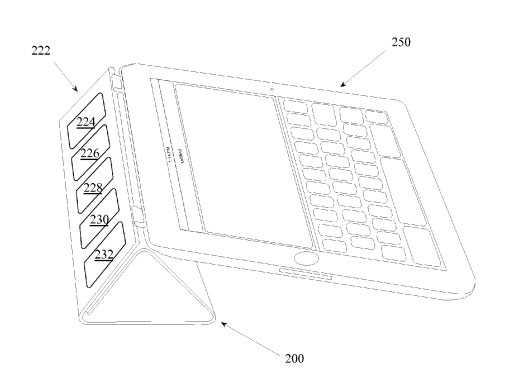 The text of the application basically describes several possible methods of having an iPad case light up to notify the user of new messages, emails, battery warnings, game notifications, calendar events and so on. The device depicted looks the same as a Smart Cover, having a magnetic three panel front flap that both protects the screen and serves as a stand when opened and folded over. The contents of those three panels are what sets the proposed cover apart.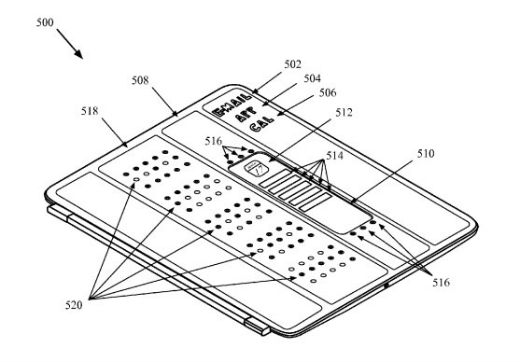 The cover is described as containing "a plurality of illumination elements disposed across the flap in a first pattern; and a connector configured to receive electrical power from an electrical distribution system of the host device and a control signal from a processor of the host device." So the cover will plug into the iPad to receive notifications and use illumination elements, probably LEDs, to relay them. Various embodiments are discussed in the text - in one, the panel labeled 510 (pictured above) would be translucent, allowing the user to see the device screen, but the panel would be as thick as the rest of the case. In another, it would be thin enough to allow the user to interact with the touch sensors. The illumination elements labeled 520 could be used to spell out words or characters or relay other information. They spell out "alert" in the illustration. The authors note that the displays will only work when the cover is closed.
Though the patent application was initially file in December of 2012 by inventors Jared Sartee and Justin Wodrich, it seems like this project is in the very early stages. At this point here is no telling when or if it will come to fruition, especially if it uses up a lot of battery life.