iPad owners will be happy to know that the Digital AV Adapter announced with the iPad 2 also works with the first generation iPad. This simple cable adds HDMI output to the tablets via the 30-pin dock connector port. Some were disappointed when the original iPad was revealed to lack HDMI output in January of last year.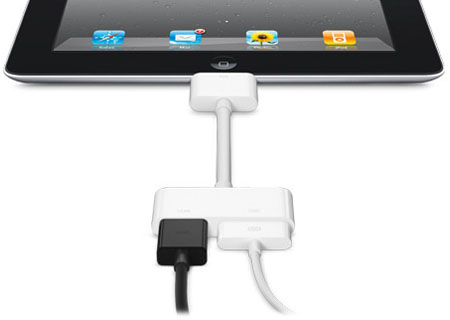 Apple did offer the Dock Connector to VGA Adapter, which made it possible to feed 1024 x 768 resolution (4:3 aspect) video to an external device. This accessory is geared towards those making presentations on projectors and the like.
With HDMI out, digital audio and 1280 x 720 resolution (16:9 aspect ratio) video can be sent directly to an HDTV or other compatible device from the original iPad. The resolution on the first generation iPad is limited to 720p. The number of applications that output video via the HDMI port are also limited on the original iPad.
The Digital AV Adapter not only connects to an HDMI cable, but charges the iPad or iPad 2 with an additional 30-pin dock connector cable. The adapter can be plugged directly into a charger or high-powered USB port while using the HDMI output. iPad 2 owners will find that the accessory has even more functionality built-in.
When using the iPad 2 with the Digital AV Adapter, 1080p HD video resolution is possible, depending on the application. Movies are still limited to 720p. One great feature that iPad 2 owners can take advantage of that does not exist on the original iPad is video mirroring. This creates a mirror image of whatever appears on the iPad 2 screen, making it possible to share any app on an HDTV or HDMI compatible projector.
The Digital AV Adapter runs $39 and will be available soon from Apple. HDMI and 30-pin dock connector cables are sold separately.