Apple has sent out invitations for an unnamed media event scheduled for September 9, 2014. The invites read, "We wish we could say more," but lack the usual clues hinting at what the event is being held for, however one major clue may be the location. The event is being held at 10am Pacific Time at the Flint Center for the Performing Arts in Cupertino. Apple fans will recognize this as the same venue where the original Mac was unveiled in 1984.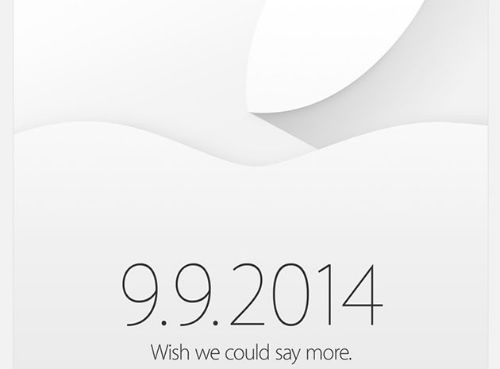 The fact that Apple is not holding its yearly September keynote at the Yerba Buena Center in San Francisco suggests that the company is preparing announce a new product we've never seen before. It is safe to assume that product will be Apple's long rumored iWatch. The Flint Center can also accommodate 2,400 people, compared to the Yerba Buena which can only house between 700-800.
Apple is also expected to announce two new iPhone models with larger displays at the event. Various leaks have suggested that both iPhone 6 models will be equipped with NFC technology, an improved camera, a more powerful A8 processor, faster LTE speeds, plus more. The iPhone 6 will also be the first device to feature iOS 8 and all its improvements, such as Apple's new Health app.
The Health app is another indication Apple is planning to release its first wearable device. The app is expected to be a main feature and selling point for the iWatch. User's will be able to use the app to collect fitness and health data from third-party apps in one easy to use hub. Apple has also already begun working with third-party companies such as Nike and the Mayo Clinic to develop software to use with the Health app.
While we won't officially know what Apple plans to announce until September 9th, it would be shocking if no iWatch is unveiled.
As for the iPad, it is still unknown when Apple will announce its next-generation tablet, but most believe it will be sometime after the iPhone 6 is released.