Yesterday in San Francisco, Apple held their keynote at their Annual Worldwide Developers Conference and it was, of course, loaded with new announcements. The keynote featured the unveiling of the new MacBook Air model, a new MacBook Pro, and most importantly, a new mobile operating system: iOS 7.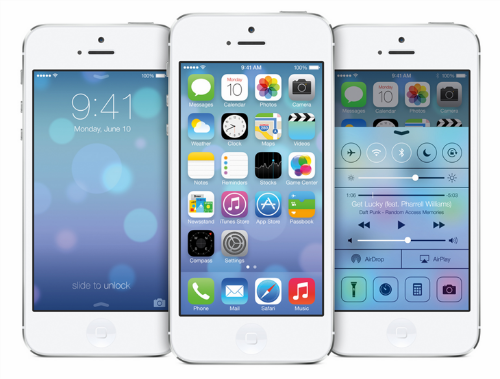 The new mobile operating system has a ton of new features, likely in an attempt to address the complaints Apple users have had with iOS for many years. It also appears they are trying to add a new level of style to the look of the iPhone and iPad. This is a totally new look for the iPad and the iPhone, and possibly the most drastic change to iOS that Apple has ever made.
The look itself has become flatter and smoother, less shading and less of the gaudy textures that were featured in iOS 6. And now there's no more digging through the general settings to adjust your device's functions and display. The control center is available by swiping up on the bottom of the screen, and will give you more direct access to the settings of your device.
In addition to this, iOS 7 has also made Siri a ton more user-friendly. Her voice has been softened, and she's much smarter now. Siri can play your voicemail, control the screen settings on your iPhone or iPad, and now has Twitter, Wikipedia, and Bing support, all through voice commands.
Apple has also incorporated a feature called AirDrop that allows you to send photos and videos to nearby iOS users without having to iMessage or email them. It simply sends the files directly to them with just a couple taps, if they are standing near you with their device.
Camera and Photos have also been revamped with a new interface, new image filters, and a new organization system. There are four different types of cameras to toggle between: video, photo, square, and panorama.
As a former Android device owner, I have to admit, the new design on iOS 7 is a little bit reminiscent of my old phone. The layout looks less boxy, and more like a mobile device than Apple ever has before. In all previous versions of iOS, the look had a very specific consistency that was recognizably that of an Apple product. This new unique style is further from Apple, but more aligned with other current technology.
In a sense, this is the furthest step Apple has ever taken away from their goal of having their product be the definitive example of a mobile device. The iPad has never been presented as just a tablet, but the pinnacle of a tablet. Will changing the look so drastically take away from this position they hold in the consumer's eyes, causing the iPad to become akin to just another tablet, or will this redefine the way users perceive their tablets altogether?
Either way, it will be fascinating to see how old and new iOS users react to the new operating system when it becomes available this fall. iOS 7 will be a free update for all generations following and including the iPad 2, the iPad Mini, the iPhone 4, and the fifth generation iPod Touch.