We all know how Apple loves to stage special media events surrounding its products. Although this one sits squarely in the rumor department, MacNotes.de reports that Apple will show off features of the upcoming iOS 4.3 release next week, followed by a reveal of the next generation iPad.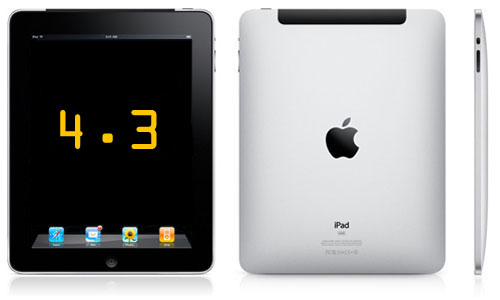 Of course, this is not outside the realm of possibility. In 2010 the original iPad was already old news by the time February came, and Apple is intent on releasing an update to its tablet to stave off the competition. January was completely overshadowed by another Apple product, the Verizon iPhone 4.
Unfortunately, the source of the information was attributed to contacts in the iPad accessory business, typically not the best at providing an inside scoop. The launch of an iPad-specific news app known as The Daily has helped to amplify the rumors, as this app is the first to feature in-app subscriptions.
When iTunes executive Eddy Cue was asked whether or not this capability would be made available to other iPad developers, he only noted that Apple would have more to say about this in the near future. Normally Apple would announce a major change to app functionality with a firmware media event, which could point to the iOS 4.3 announcement coming soon. The third beta version of iOS 4.3 was seeded to developers this week.
Other rumors posted online pointed to a possible release of iOS 4.3 by February 13, adding a mobile hotspot to the AT&T iPhone 4. The Verizon iPhone 4 runs its own version of the Apple firmware with a personal hotspot, iOS 4.2.6. iPad owners will receive the iOS 4.3 update free of charge according to terms previously published by Apple.
The iPad 2 is widely expected to have a slimmer form factor, dual built-in cameras, an improved processor and lighter weight. iOS 4.3 will restore the rotation lock switch and provide new multi-finger gestures that reduce reliance on the home button.