Amazon Mobile is now a universal app optimized for the iPad or iPhone. Available for free in the Apple App Store, the updated software takes advantage of the iPad's larger screen to improve all aspects of the online shopping experience. Attractive and large image galleries are complemented by user reviews and detailed product descriptions.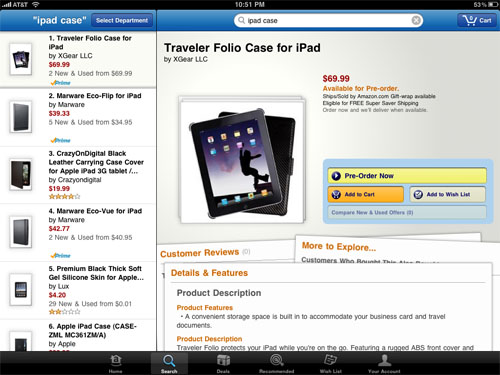 Amazon accounts, wish lists and package tracking can all be accessed on the iPad, along with 1-Click ordering and Amazon Prime features. Movie trailers and song samples are integrated into the iPad application and are sure to give iTunes a run for its money. Amazon is also competing with Apple on the ebook front with its Kindle reader and iPad application.
Analysts have predicted that Apple's iBookstore could decrease Amazon's ebook market share by up to 20 percent in 2010. Although Amazon.com started by selling books, the company now offers consumer products in 49 different categories.
Best-sellers, daily deals, filtered search results, order history and personalized recommendations are all accessible using the Amazon Mobile iPad app. Director of Amazon Mobile Sam Hall explained, "This application offers customers a unique, interactive experience that takes full advantage of the visual and tactile nature of the iPad."
According to Amazon, the Amazon Mobile iPad app is great for:
- Browsing product images and reading customer reviews while on the bus or train
- Buying a favorite new book while waiting for an appointment
- Comparing prices from Amazon and thousands of other merchants to those in the retail store you are visiting
- Purchasing and gift wrapping your holiday gifts while on the go
- Shopping for the full selection of products available on Amazon.com
- Tracking the status of a recently-placed order when you're away from your computer
- Watching movie trailers and listening to music samples
Amazon Mobile 1.2.5 for the iPad is available now on the App Store for free.