For a brief moment during Steve Job's demo of the Apple iPad we all glimpsed the infamous "missing plug-in" icon on the New York Times website. It seems that Mobile Safari, even on a more formidable device than the iPhone, will continue to lack Flash.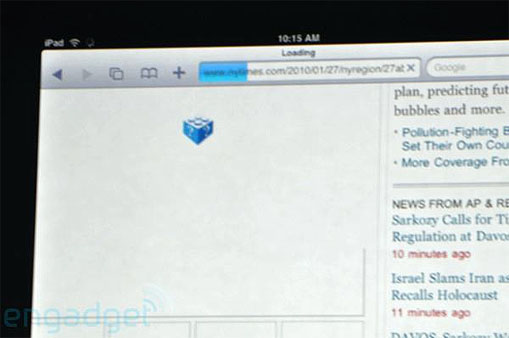 Apple has cited battery life and security issues as reasons why the popular plug-in never made it onto the iPhone. Now Adobe has posted a response to Apple's similar position regarding the iPad.
Without Flash support, iPad users will not be able to access the full range of web content, including over 70% of games and 75% of video on the web.

If I want to use the iPad to connect to Disney, Hulu, Miniclip, Farmville, ESPN, Kongregate, or JibJab -- not to mention the millions of other sites on the web -- I'll be out of luck.

Adobe and more than 50 of our partners in the Open Screen Project are working to enable developers and content publishers to deliver to any device, so that consumers have open access to their favorite interactive media, content, and applications across platform, regardless of the device that people choose to use.
Apple is reportedly waiting for HTML 5 to catch on and replace Flash entirely. This makes the following statement accusing Apple of ignoring open standards even more interesting:
It looks like Apple is continuing to impose restrictions on their devices that limit both content publishers and consumers. Unlike many other ebook readers using the ePub file format, consumers will not be able to access ePub content with Apple's DRM technology on devices made by other manufacturers.
Adobe has supported ePub standards and invented the PDF, which is now also an open standard.
See the entire blog post here.