2K Games, the team that successfully brought XCOM: Enemy Unknown to mobile devices, is working on BioShock for iOS. For those who don't know, BioShock is a popular first-person shooter that was released for the Xbox 360 in 2007. The iOS version will be another "premium" title, meaning it will cost around the same amount as XCOM when it was originally released for the iPad and iPhone. 2K Games caused an uproar on social media when it was originally announced that XCOM would be available for $20 on the App Store. Even with its high price tag the game was met with positive reviews and it was eventually dropped to only $10.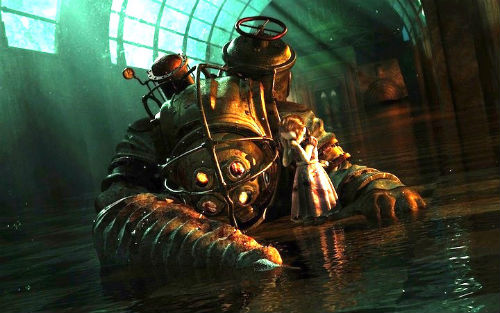 BioShock has been scaled down graphically to work with Apple devices. The iOS version is also "distinctly less immersive" than the original, according to Engadget. Both Engadget and Polygon said the game plays well on the iPad but not when using the touch controls. Luckily BioShock will come with Bluetooth support so players will be able to use an external MFi controller instead of the onscreen option.
The iOS version will not offer any new downloadable content and it will only be available for newer iOS devices, such as the iPhone 5 and later and iPad Air or later. The game will be available on the App Store sometime this summer.
BioShock is a horror themed game that takes place in 1960. Players must utilize a variety of techniques to escape the underwater city of Rapture and its deadly inhabitants. The game is mostly a first-person shooter but it also contains RPG and stealth elements. Players can use in-game money and found items to create new weapons and also must make moral choices that affect the outcome of the game.