If you believe analysts and the rumor mill, Apple will be releasing a record number of iOS devices this year. There is the iPhone 5S, iPhone mini or "low-cost" iPhone, iPhone Math, the iPad 5 and iPad mini 2. The iPhone Math rumor was based on a poorly translated Chinese news report, however, the original rumor stated Apple would be releasing three iPhones in 2013. While it's safe to assume Apple is only working on the iPhone 5S and a low-cost iPhone, it's possible that Tim Cook and team are gearing up to refresh the entire iPhone lineup with three new devices. That would make the iPhone Math rumor plausible, minus the goofy mistranslated name.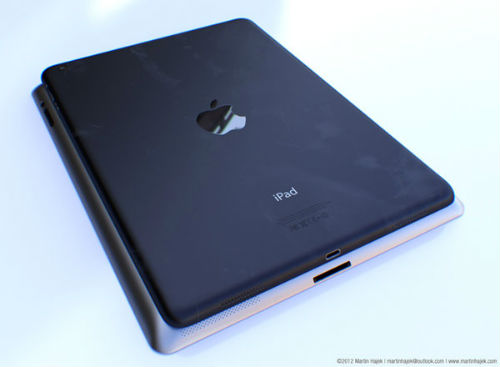 While there are a lot of wild iPhone rumors floating around, it's just the opposite for the iPad. The iPad mini is only expected to get an upgrade so it can catch up with its bigger brother. This means a 7.9-inch Retina display, an upgraded processor, and more RAM. It has been rumored that Apple is toying with the idea of releasing the new iPhone in an array of different colors, maybe they will do the same with the iPad mini too... But that's doubtful.
The iPad 5 is expected to go on another diet to be even slimmer and lighter. According to various reports, the iPad 5 will feature a thinner bezel to mirror the iPad mini, and be the first Apple device to sport a new A7 processor. Both the iPad 5 and iPad mini 2 are also expected to feature IGZO technology developed by Sharp.
UPDATE: While I was writing this Jeremy Horwitz of iLounge claimed to have had the chance to "inspect a supposedly accurate—and seriously intriguing—physical model of the completely redesigned fifth-generation iPad". Here is what he had to say:
"What does [the fifth-generation iPad] look like? Well, it's a lot smaller than one would guess was possible: in portrait orientation, picture a 9.7" screen with virtually no left or right bezels, and only enough space above and below the screen to accommodate the mandatory camera and Home Button elements. Beyond that, it's noticeably thinner, as well, which is to say the the fifth-generation iPad will be smaller in every dimension than its predecessors. As it will have the same chamfered edges and curves, calling it a 'stretched iPad mini' is very close to entirely accurate..."
Horwitz goes on to say that IGZO screen technology being used is likely, and a "full internal redesign—complete with a smaller, less power-hungry sequel to the A6X" is a given.
The iPad 5 was originally rumored to be getting a March release, but Horwitz said we probably won't see it until October.