Apple's iPad 2 Smart Cover easily attaches and detaches from the iPad thanks to built-in magnets. When attached the Smart Cover has a thin profile that protects the iPad 2 glass screen surface. A microfiber lining helps clean fingerprints and dust when in transit.

Folding the Smart Cover results in two different configurations that make a typing or viewing stand. This accessory can also be folded completely out of the way behind the iPad 2 like a book cover. When the back camera is needed, no need to remove the Smart Cover. It can be folded in half to expose the camera lens.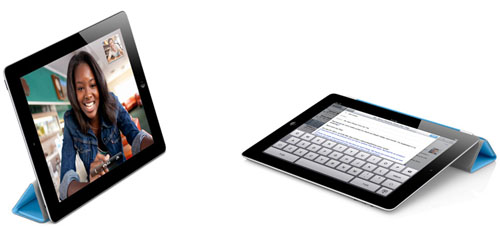 The iPad 2 was designed for perfect integration with the Smart Cover. Opening the cover will wake up the iPad 2, and covering the screen puts the device to sleep automatically. The Smart Cover will run $39 for polyurethane and $59 in aniline-dyed Italian leather. Each material comes in five different colors.